Presenting our cutting-edge smartwatch, the pinnacle of luxury and technology. This watch was carefully and precisely crafted to be the ideal companion for the modern person who values style and sophistication.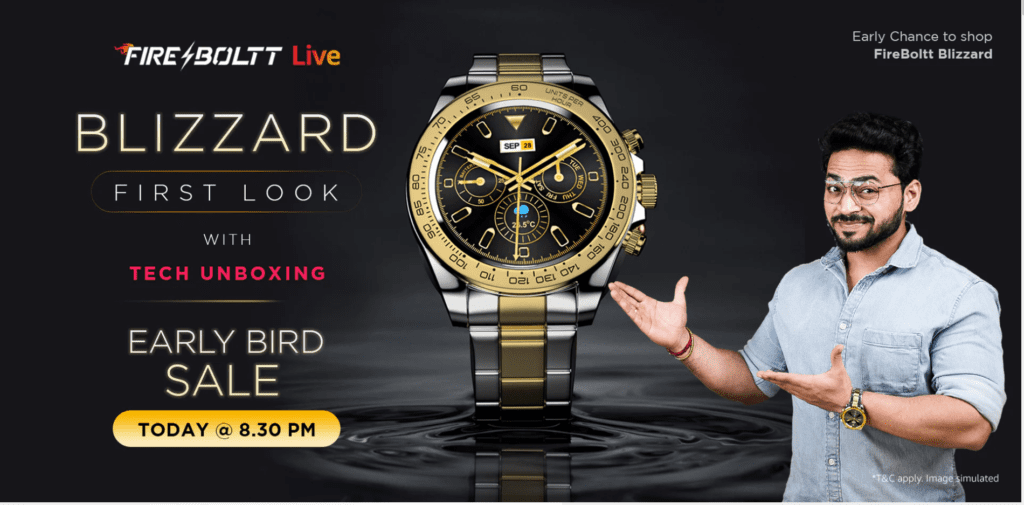 The LUXURY EDITION
The most recent addition to Fire-Luxury Bolt's line is the Blizzard Smartwatch. designed with a futuristic concept of grace and nostalgia.
The metal construction, the circular dial, the distinctive features of an analogue watch, such as the style and the written TACHYMETRIC SCALE, etc. This segment of royalty and class that Fire-Boltt developed is here to restore the classic elegance in its purest form.
The Blizzard Smartwatch's entire metal body is made of STAINLESS STEEL and has ANTI-COROSSION characteristics.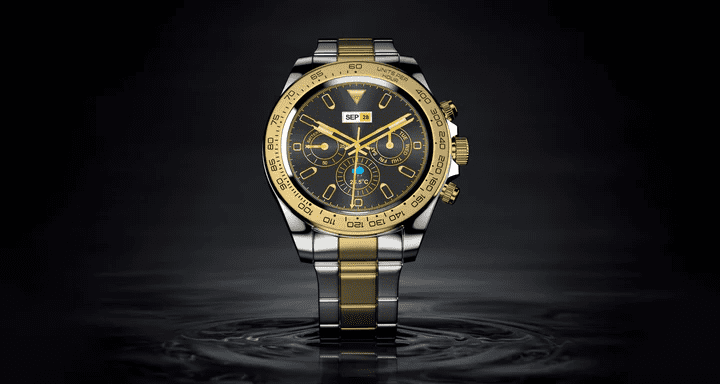 Also, the watch's bezel is made of HIGH-TECH CERAMIC, which just adds to the dependability of this exquisite timepiece.
Because it excels in all areas—including longevity, aesthetics, and style—it is a master*.
Undoubtedly, the style of this smart watch is such that it will make you stand out for a very long time in addition to making you shine brighter than ever!
the Statement All-Silver Body, the modern Silver & Black palette, and the conventional Silver & Golden palette.
A TACHYMETRIC SCALE that is etched around the smartwatch's rim creates a classic example of classical style.
The speed of a moving object is measured using this scale in relation to the amount of time and distance that has passed (V) ( C ).
The Blizzard Smartwatch has an ROTATING CROWN, HOME BUTTON, and BACK BUTTON on its side.
These three timeless additions are now available to not only improve the overall appearance but also to deliver the greatest accessibility to your wrist.
a breathtaking visual experience!
This smartwatch offers an exceptional visual experience with a 1.28-INCH HD DISPLAY.
The crisp picture clarity and vibrant colour representation on the screen are a great treat for the eyes.
The pace of your flexible lifestyle can be matched by distinctive and luxurious-looking LUXURY WATCH FACES that go with your various outfits and moods.
Bluetooth Calling and Smart Notifications are available on the Fire-Boltt BLIZZARD.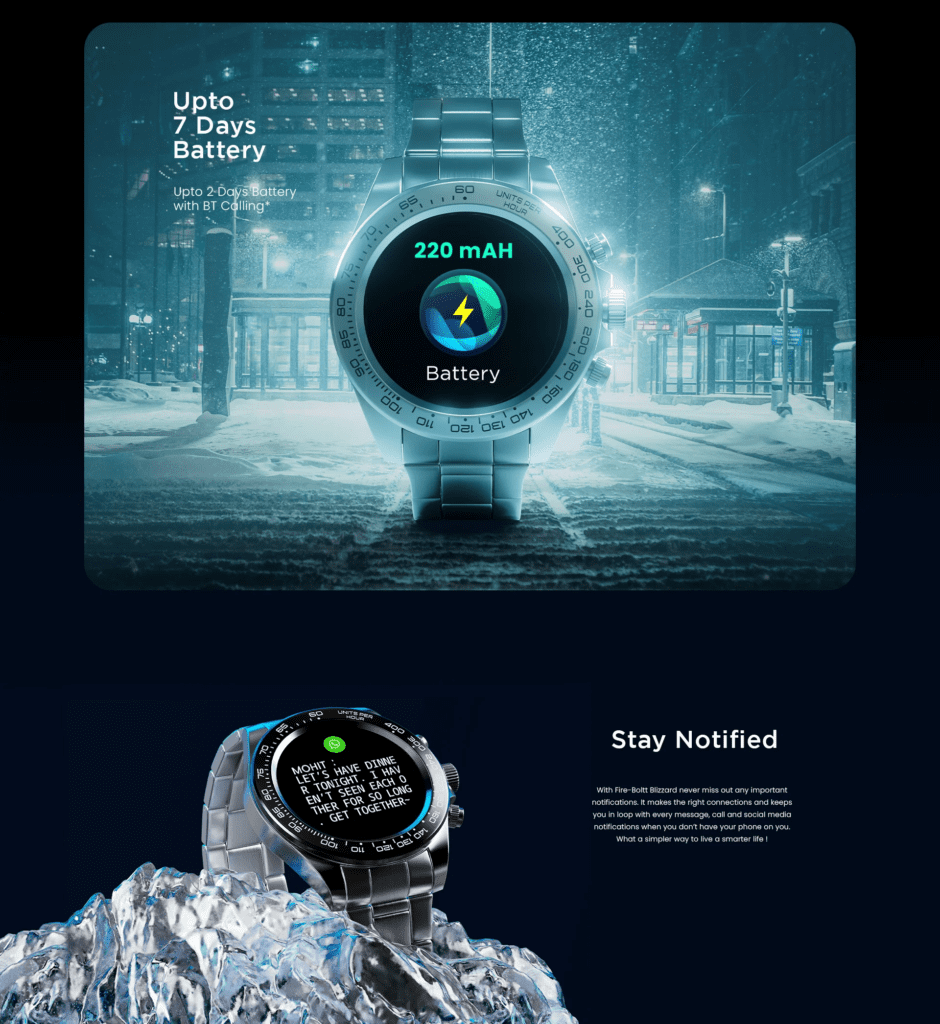 These two elements are among the most important ones because they have summed up the entire procedure for connecting to the outside world DIRECTLY ON YOUR WRIST!
The built-in microphone and speaker, built-in storage, and rapid dial pad make the Bluetooth calling feature even more practical and easy to use.
All notification alerts, such as social networking pop-ups from programmes, are included in the SMART NOTIFICATIONS function.
such as text messages, reminder notifications, Facebook, Twitter, Instagram, and WhatsApp.
Your physical well-being is monitored by Fire-SIGNATURE Boltt's HEALTH SUITE, which keeps track of things like heart rate, SpO2 levels, and sleep cycle.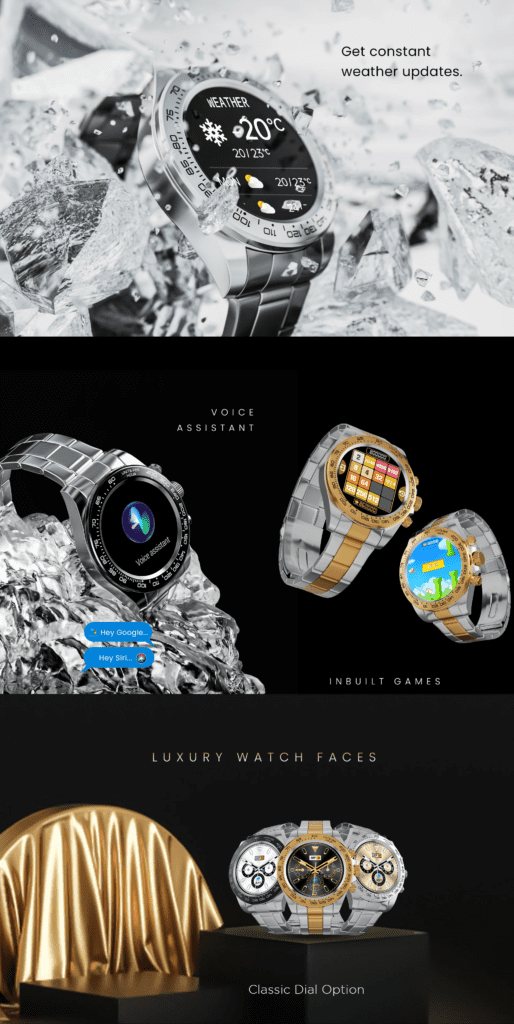 After every therapy session, you can use a feature of meditative breathing to help you feel calm and clear your mind.
The Blizzard Smart Watch has the feature of Health Reminders including Sedentary & Hydration Reminders to motivate you to keep a healthy lifestyle.
Menstrual monitoring is a function for women's health care that can display crucial information like the fertile window, ovulation cycle, etc. directly on the display.
You have access to 120 EXCLUSIVE SPORTS MODES right on your wrist.
With its superior functionality, clever algorithm, and precise recognition of the type of exercise you are performing,
This function provides you with a list of all the key facts. such as steps taken, distance travelled, and calories burned, among other metrics.
Cross items off the list!
Your busy schedules of multitasking may be handled by the 220 mAh BATTERY without the need for unneeded breaks.
It has a 7-day regular battery life and a 2-day Bluetooth calling battery life.
All the unintentional spills and dust may be handled thanks to IP67 WATER RESISTANT.
Thus, whether you want to work up a sweat or take a dive, hike through the mountains or go on a desert safari, Fire-Boltt Blizzard has got you covered.
bringing about a positive change!
innovative features including WEATHER FORECAST, ALARM, MUSIC & CAMERA CONTROL, TIMER & STOPWATCH, and VOICE ASSISTANCE.
the main components that distinguish the Blizzard Wristwatch as a High-Tech Gadget/ Accessory.